The U.S. Green Building Council highlighted five CMTA-designed, net zero schools in their recent article about energy trailblazers. At the cutting edge of net zero design, these schools offer valuable strategies and lessons learned for designing schools that minimize energy use, reduce emissions, and improve occupant health and wellness. CMTA was proud to provide full MEP engineering services for these exceptional buildings in Arlington, VA and Washington, D.C.
Here's what USGBC had to say about these pioneering facilities:
Arlington, VA
Virginia's Arlington County is a net zero leader, with Discovery Elementary School being the first school ever to receive LEED Zero Energy certification. After this success, Arlington Public Schools (APS) wanted its next projects, Alice West Fleet Elementary School and Cardinal Elementary School, to follow in Discovery's footsteps.
"When we saw what was possible and achievable, it opened up our understanding of zero energy schools," says Catherine Lin, director of facilities and operations at APS.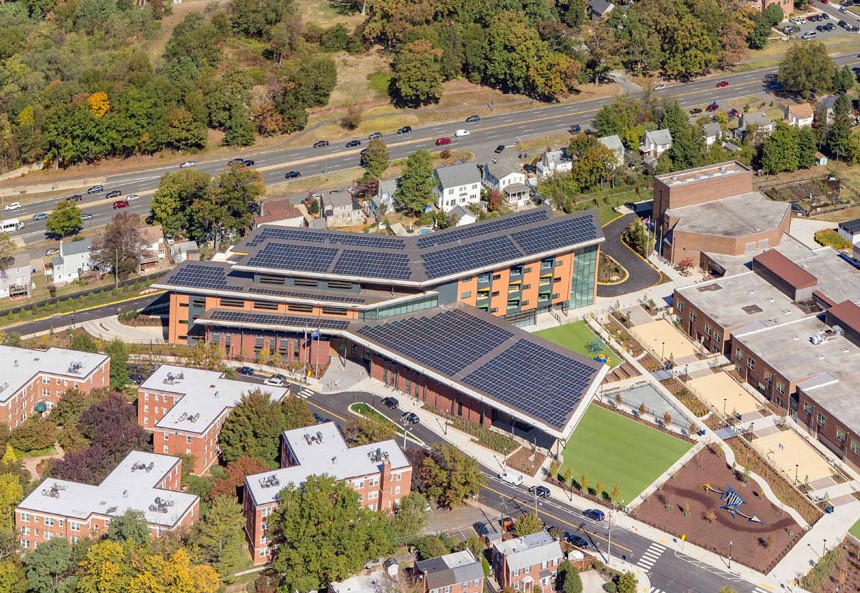 Alice West Fleet Elementary School aerial.
Fleet Elementary is the second net zero school for APS. Home to PreK-5 students, the new building was completed in 2019 and earned LEED Gold certification. The 582-kilowatt rooftop solar array coupled with geothermal heating and cooling, a distributed heat pump system, demand-controlled ventilation, all-LED lighting, all-electric power, and real-time power monitoring helped Fleet Elementary realize its zero emissions ambitions.
The third school in the APS net zero energy portfolio is Cardinal Elementary, a K-5 school also certified as LEED Gold. Completed in 2021, the project involved renovating 19,797 gross square feet of an existing building and adding 92,177 square feet of new construction.
Wyck Knox, principal at VMDO and lead architect on the firm's work for APS, notes that both schools have energy use intensities (EUIs) under 20, and attributes those low values to the efficiencies that geothermal energy systems and all-electric kitchens bring.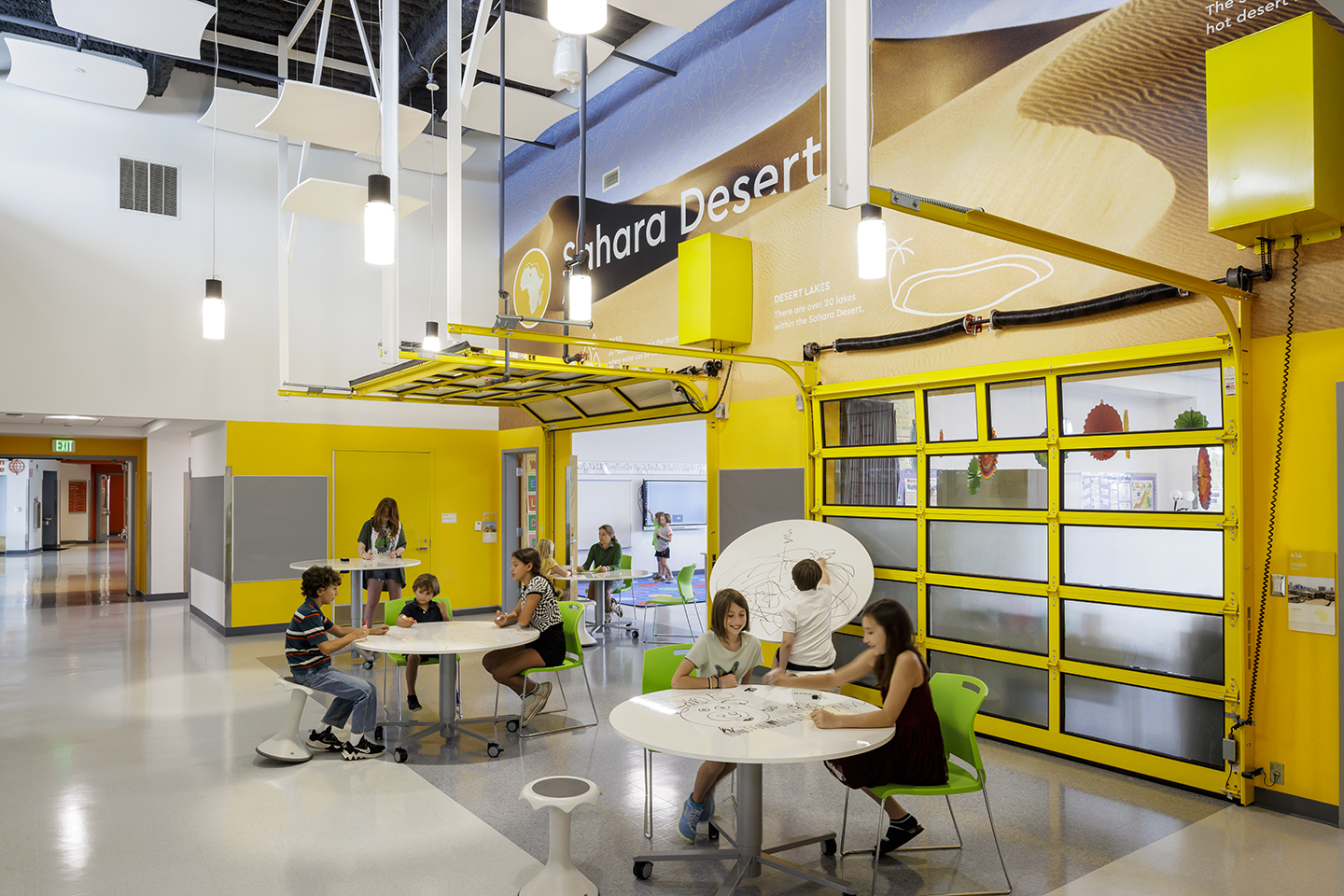 Cardinal Elementary School classroom.
Moreover, leveraging heating and cooling from the ground is a "smaller lift than using the outside air to heat your school during frosty winters, or bringing in warm air and trying to cool it when summers are hot and humid," Lin says. As a "huge believer" in geothermal and solar energy systems, she views them as "the biggest opportunities for us to be zero energy and carbon-free."
The two schools were constructed within budget, and in terms of operations, they have lower utility costs compared to regular builds. According to Lin, APS spends anywhere between $100,000 and $120,000 annually on utilities for a typical elementary school, but a net zero energy school's utility bills amount to under $20,000 a year, reducing expenses by 80% and resulting in significant savings. In addition, when "designed well and built properly, net zero schools are easier to maintain," she adds.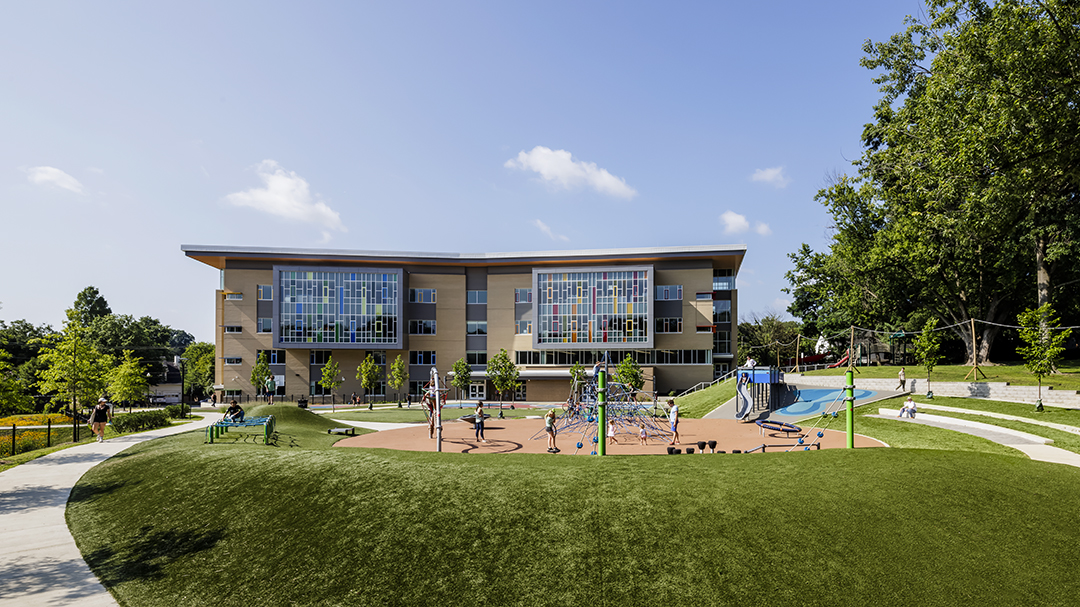 Cardinal Elementary School exterior.
Washington, D.C.
In neighboring Washington, D.C., the District of Columbia Public Schools (DCPS) system decided to get ahead of the Omnibus Act—DC legislation that includes initiatives and standards that target building energy use—with two net zero energy schools, John Lewis Elementary School and Benjamin Banneker Academic High School.
Serving more than 350 PreK-5 students, John Lewis Elementary's new two-story, 90,000 square foot building is pursuing both LEED Platinum and WELL Platinum certification. Banneker has obtained LEED Platinum certification, and as one of the top high schools in the country, its new four-story, 175,000 square foot campus offers a college-like setting for some of the district's brightest students grades 9 to 12.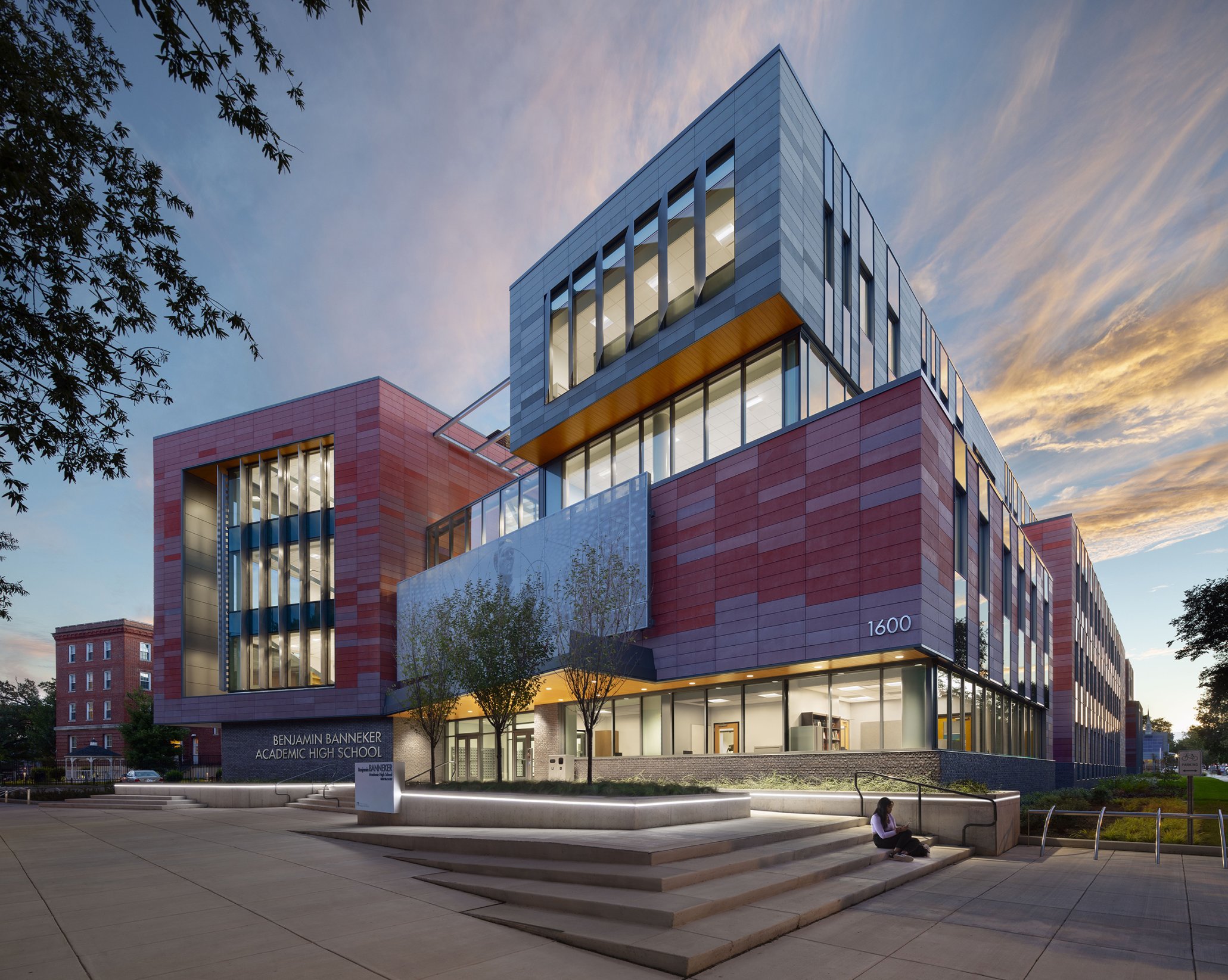 Benjamin Banneker Academic High School exterior.
In designing these two projects, the [design team] identified strategies that delivered on energy objectives. Beginning with proper building orientation, both schools were oriented along an east-west axis to maximize natural light and minimize glare.
Next, [the design team] focused on the building envelope. The team decreased the window-to-wall ratio, put in windows where they would be valuable for views and daylighting, and lessened gaps in the envelope that could limit control over heat gains or heat losses.
Finally, the team put systems in place, such as solar arrays, geothermal heating and cooling, and all-electric power. Both schools have photovoltaic (PV) panels installed on the rooftop, but Banneker also has panels on its southern side that double as shading devices, as well as parking lot and stadium seating covered in PV canopies to attain net zero energy on a campus scale.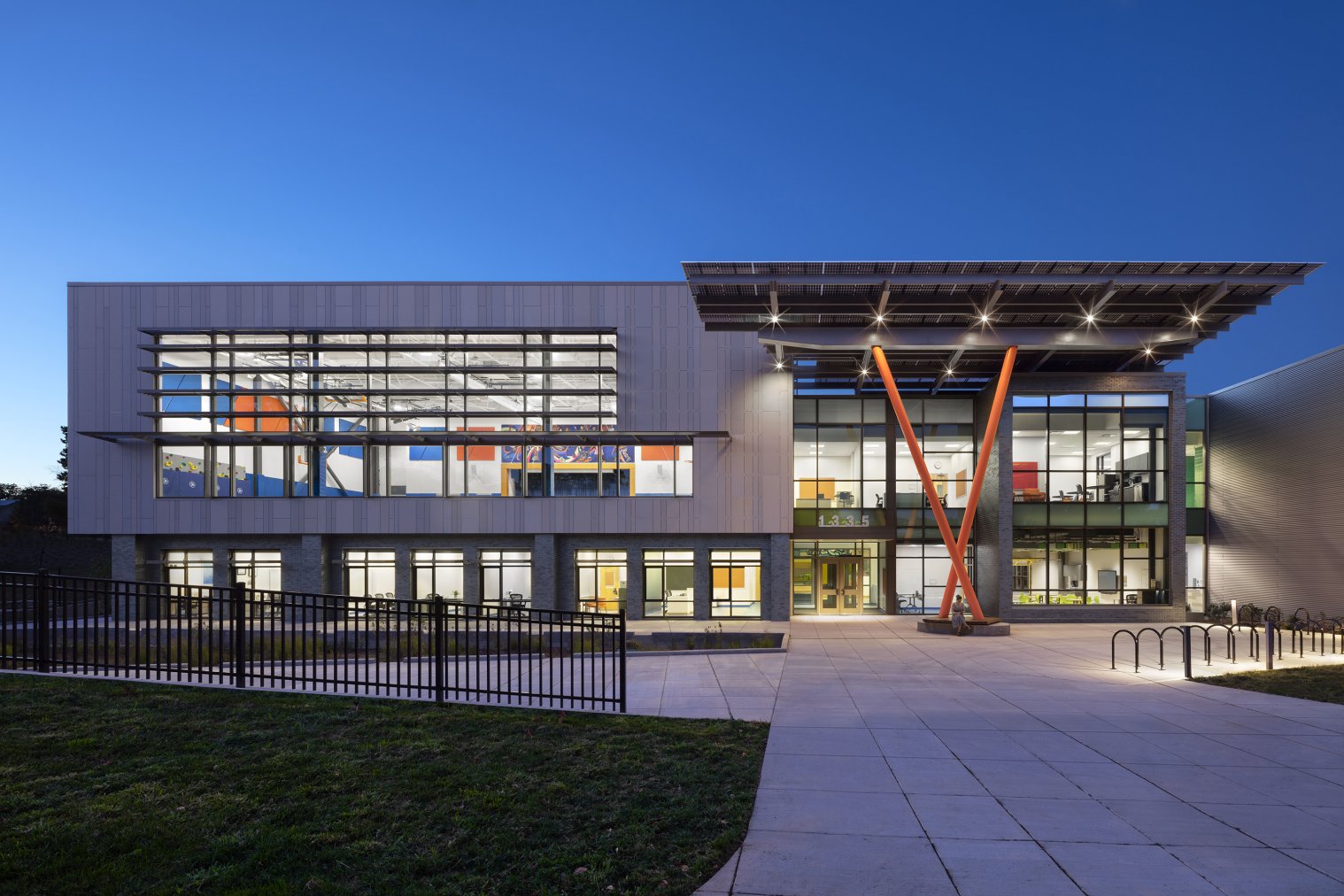 John Lewis Elementary School exterior.
The two schools opened in 2021 and were completed within budget—no modifications were made to pursue net zero energy. The key, according to Perkins Eastman director of sustainability Heather Jauregui, is to look at everything comprehensively and holistically to find ways and areas to optimize.
For John Lewis Elementary in particular, an online interactive dashboard tracks the building's energy consumption and highlights its sustainability features. Teachers use the dashboard as an educational tool, embedding it into their curriculum and showing students the impact of the built environment on climate change and health and wellness.
Click here to view the SPHERE dashboard CMTA designed for John Lewis Elementary staff and students.
Net Zero Benefits That Further Health and Wellness
Beyond greener and more sustainable buildings that are cheaper to operate and easier to maintain, net zero energy schools can also boost indoor environmental quality and promote health and wellness.
At Arlington's Fleet Elementary and Cardinal Elementary, for instance, windows not only provide proper ventilation, but also allow for ample natural light, which decreases electricity costs and consumption and could lead to better student performance and higher test scores.
John Lewis and Banneker in Washington, D.C., took a similar approach, with John Lewis achieving 30% increased ventilation over code requirements.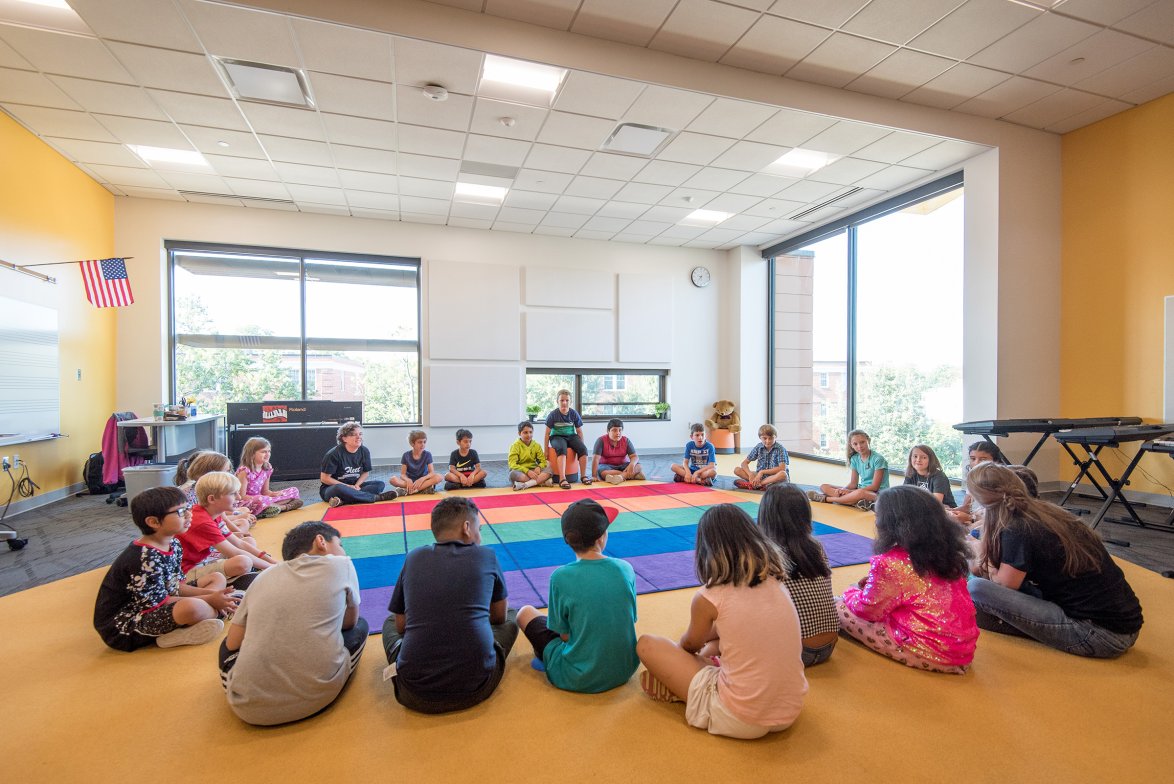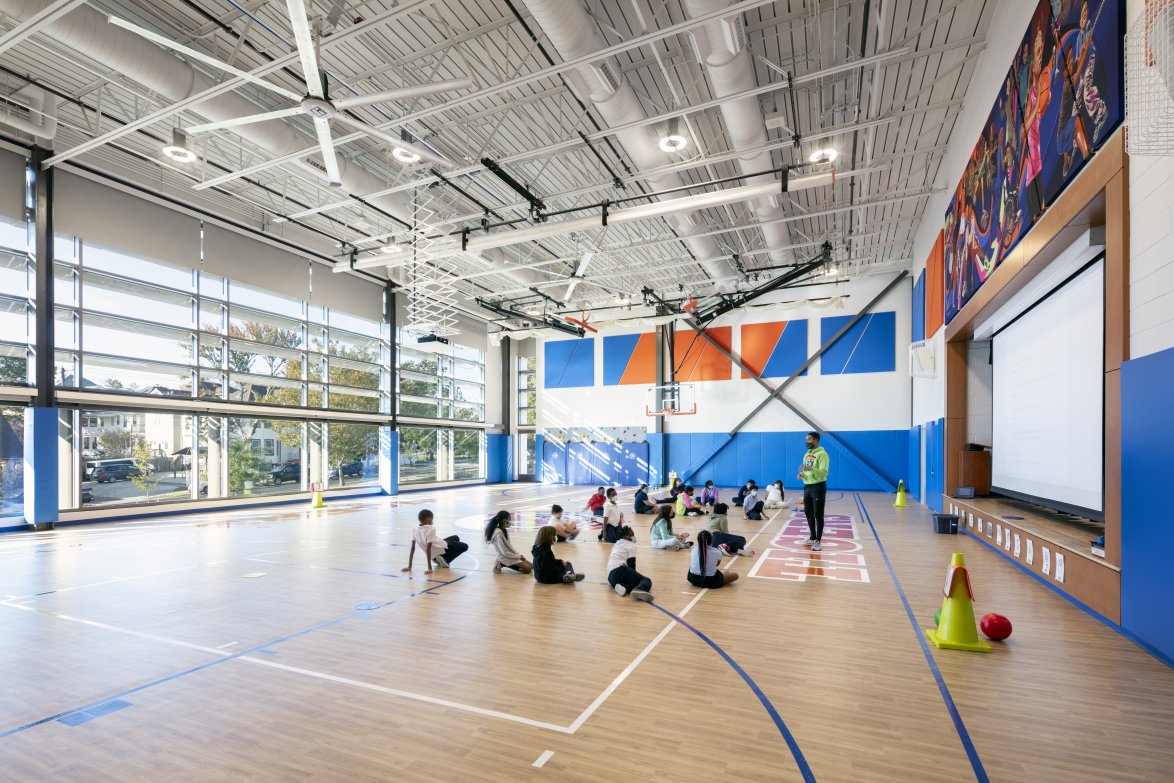 Alice West Fleet Elementary classroom (top) and John Lewis Elementary School gymnasium (bottom).
Technical Tips on Designing and Building Net Zero Schools
Consider the site.
Maintain an airtight envelope.
Rightsize the system.
Find a fitting insulation approach.
CMTA is a national pioneer in the development of Zero Energy and Zero Carbon buildings, having engineered more than 9.5 million square feet of Zero Energy and Zero Carbon projects across the country. Click here to learn more about our high-performance design approach.