LOUISVILLE, KY (October 24, 2023) – Innovative geothermal technology is now live and in use at the Jerry E. Abramson Terminal at the Louisville Muhammad Ali International Airport (SDF) thanks to the largest geothermal wellfield of any U.S. airport. By using geothermal energy, the airport reduces its reliance on fossil fuels and significantly decreases greenhouse-gas emissions because geothermal energy is clean, reliable, and renewable. This project, totaling $120 million, is celebrating another win as part of the SDF Next Program, which will see upwards of $500 million invested in the terminal for on-going capital improvements in the coming years.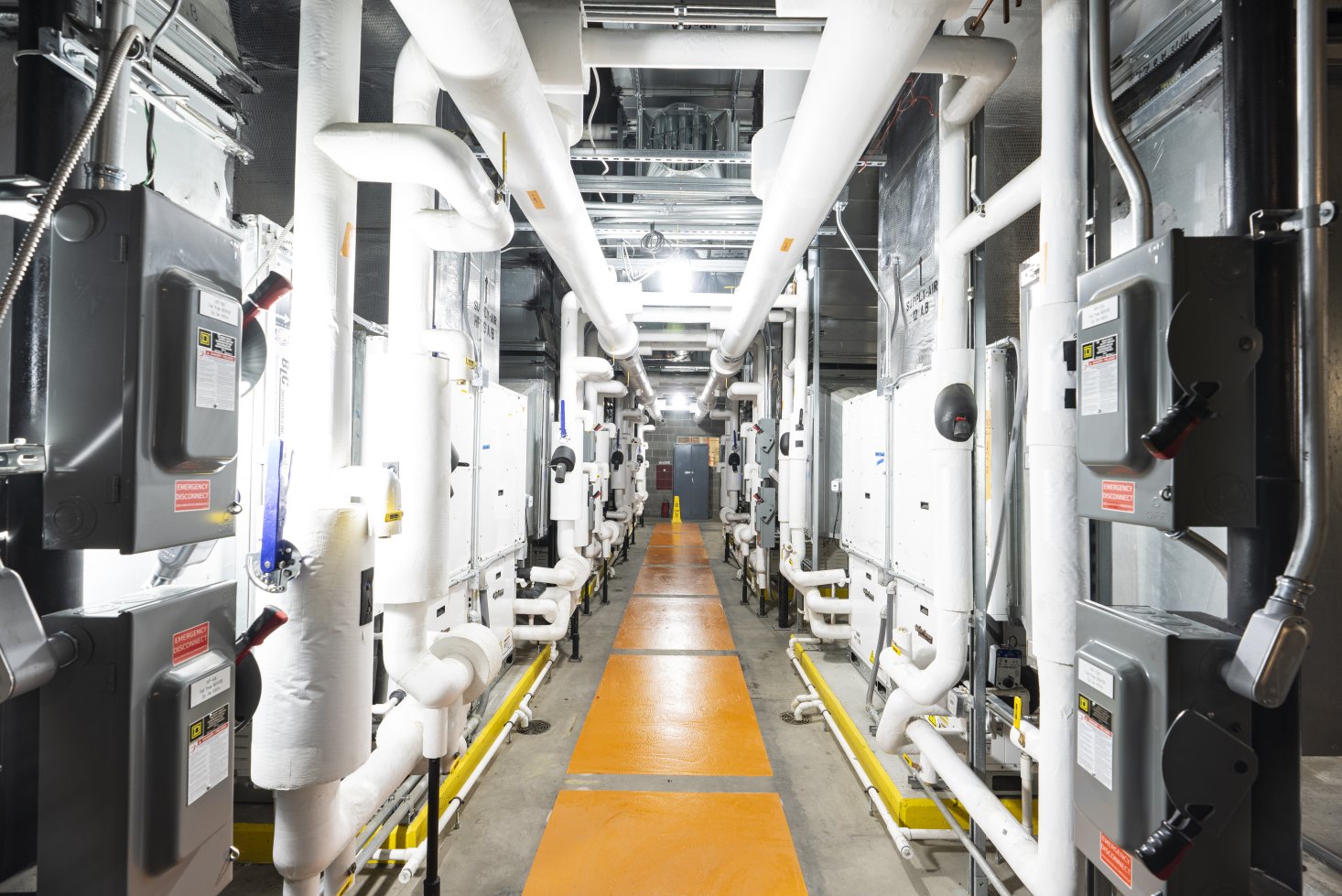 Water source heat pumps (WSHP) in terminal building mechanical room
"This milestone is one I'm pleased to share with you today as it's been more than two years in the making following our groundbreaking," said Dan Mann, Executive Director of the Louisville Regional Airport Authority. "Beyond the overall innovation of this project, it further confirms our commitment to providing best-in-class facilities for our passengers, while also being an industry leader in reducing carbon emissions and saving energy. This is a win-win any way you look at it."
When fully completed, the project is expected to save $400,000 annually in utility costs and reduce greenhouse-gas (carbon) emissions by 80%. What's more, the use of geothermal is cost-effective over the long term since geothermal systems require less maintenance and last longer than traditional HVAC systems. The U.S. Department of Transportation's Federal Aviation Administration (FAA) awarded $10.6 million to SDF as part of the Voluntary Airport Low Emissions (VALE) Grant Program. The VALE Program aims to build more sustainable airports and this grant was significant in providing support for this project as well as making it a cost-effective energy solution.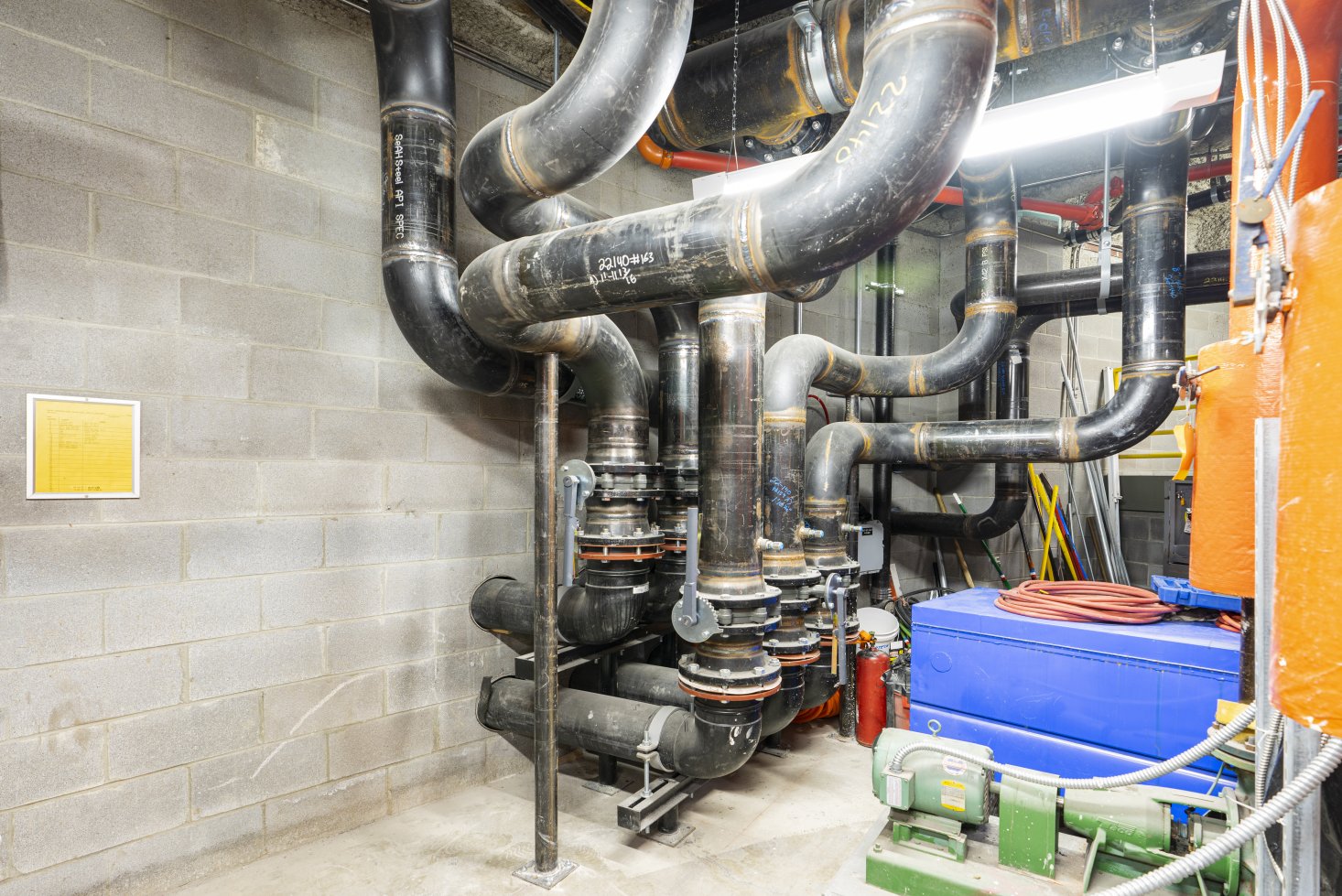 Geothermal main entry piping to terminal mechanical room
By investing in this technology, SDF is demonstrating that the aviation industry can significantly reduce its environmental impact and still achieve operational efficiency. The message is clear: The airport is investing in both its long-term future and the future of the aviation industry.
"We are pleased to work with Dan Mann, Brian Sinnwell, Megan Thoben and the entire team at SDF on this project," said Dave Mayer, Partner at CMTA, Inc. "They fully embraced thinking outside-the-box to come up with a solution to upgrading its mechanical systems facility-wide and allowed us to use this as opportunity to broaden and enhance their overall sustainability initiatives."
This geothermal project is just one part of the SDF's broader commitment to sustainability. The capital improvement SDF Next Program will improve the terminal and airfield, reducing overall energy use by up to 45% in the coming years. As part of this program, lighting and mechanical systems will be upgraded, energy-efficient envelope upgrades will be installed in the terminal and alternative transportation options will be available. The airport is even exploring the possibility of installing electric charging stations for cars and ground support equipment.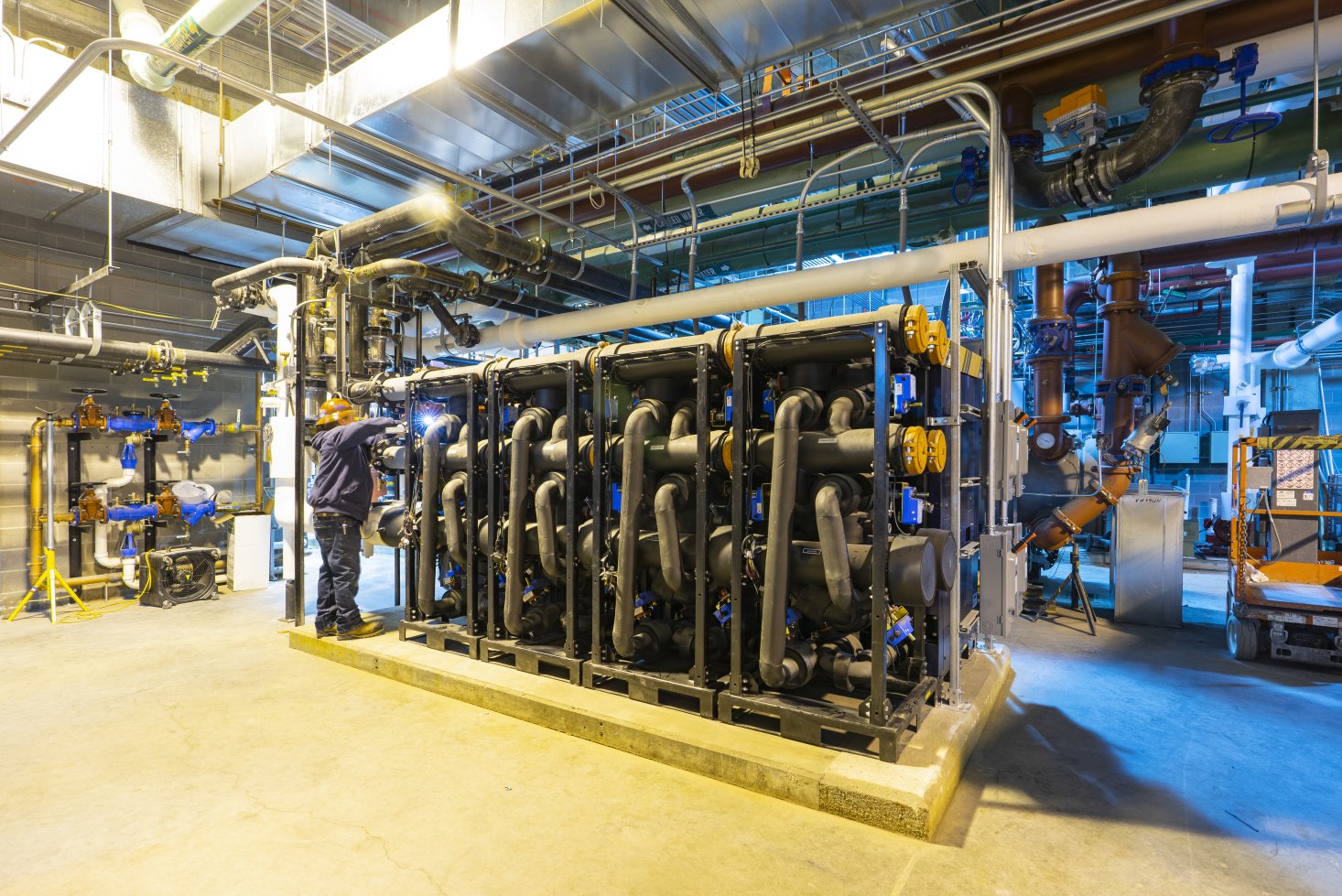 Geothermal 6-pipe heat recovery chiller
"CMTA, Inc. has been a great partner from the start of this project, including those early conversations to explore the possibility of geothermal," added Mann. "Not only did their team take time to really listen to us throughout the process, but they have also naturally developed a strong ownership in the project. They have a great group of people working hand-in-hand with our staff to ensure the SDF is providing the best for our customers."
The Louisville Muhammad Ali International Airport is setting new standards when it comes to sustainability in the aviation industry. The use of the largest geothermal wellfield in U.S. airports is a significant achievement that demonstrates what can be done with innovative thinking and commitment to change. As more phases are complete in the coming years, the results of this project will not only benefit the environment but will also benefit the airport's bottom line, as it saves on energy costs.
About Louisville Muhammad Ali International Airport (SDF)
The Louisville Muhammad Ali International Airport (SDF) is owned and operated by the Louisville Regional Airport Authority. Eight commercial airlines offer nonstop service to more than 35 nonstop destinations from Louisville. SDF is home to UPS Worldport, moving millions of tons of product each year, making it the 3rd busiest cargo airport in North America and 5th in the world. Aviation is an economic powerhouse for the region that generates $10.4 billion in economic impact every year. One in 8 jobs is generated by the airports and their aviation partners.